Types of Crack in concrete
Types of Crack in Concrete:7 Different Types of Slap Concrete Cracks
Sometimes cracks occur in your concrete slab unrelated to your foundation or the general structure of your home. Often, these cracks are noticed when the floor above the concrete slab becomes damaged by the uneven concrete. Usually the damage of both floors is caused by the presence of water.
Types of crack in concrete
Here are common types of crack in concrete:
Shrinkage Concrete Cracks 
This  cracks have a V-shape (less frequent), with the top of the crack looking larger and the crack getting smaller as it travels towards to floor and diminishing or stopping before reaching the bottom of the foundation wall. If the crack reaches the bottom, the crack might damage the building's footings, and the crack might have a significant impact on the foundation structure.
Hairline cracks on Concrete
Hairline cracks appear in the center of the walls because the wall corners have greater stability. This happens shortly after pouring the concrete foundation, concrete may have been mixed poorly or poured too quickly. Hairline cracks do not cause problems with the stability of the foundation but do cause leakage problems.
Settlement concrete cracks
Settlement cracks may appear when the underlying ground has not been compacted or appropriately prepared or areas where the soil of the subgrade was uneven after the concrete was poured. This type of crack is usually continuous and may occur multiple times in a wall.
Horizontal  Concrete cracks
Horizontal cracks found in the center of the wall are most likely caused by an applied load such as heavy equipment operated too soon or too close to the foundation wall. Horizontal cracks found high up on the wall are most likely caused by frost damage. Sometimes these fine cracks are not noticed for years. In a case like this, a structural engineer should be consulted.
Vertical Concrete Cracks
Vertical cracks tend to appear nearly straight or wandering, generally even in width, intermittent, or more often straight is caused by shrinkage/thermal and are usually low risk. If there is significant vertical dislocation or signs of ongoing movement, you should consult a structural engineer.
Diagonal Concrete Cracks
Settlement cracks can also cause a diagonal crack. In a case like this, a structural engineer should be consulted. If the diagonal crack is wider at the top than at the bottom, then it may be caused by expansion clay soil or frost damage. If the crack is wider at the bottom than the top, there is likely a problem with the settlement beneath.
Floor crack in concrete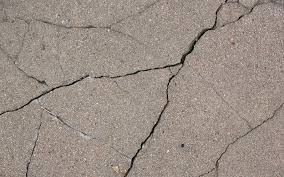 Floor cracks in concrete slabs are relatively common and usually not worrisome on a structural level. They should be repaired to prevent common issues like moisture, insects, and damage from seeping through.
Consult our engineers. Call/WhatsApp +254722888721 or Email; Info@hpdconsult.com